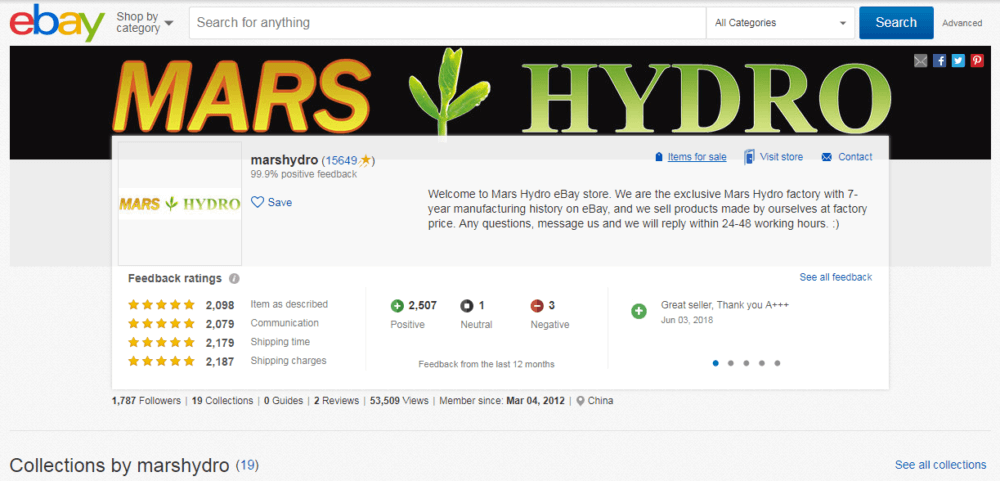 If you've been thinking about growing cannabis at home and looking into the equipment needed then a) welcome, you're in the right place, and b) you've probably already run across the name MarsHydro.
We've written positively about their grow lights on more than one occasion, with Mars lights getting honorable mentions in our own Top 10 article and the Mars 300W making our sister site's Top 10 for the past two years. We also know their lights are big sellers with readers of both our site.
So why are we writing about them again now?
Well, partly because they asked us to (yep, full disclosure: this is a sponsored post*).
But more importantly, because you need to know about the MarsHydro eBay store:
Their eBay factory shop is cheaper than Amazon. (You can't accuse us of burying the lead! 🙂 )
Not only that but some MarsHydro lights just aren't available on Amazon anymore.
And those are just the two main reasons…
So if you're considering buying a MarsHydro grow light or grow tent, read on to find out a bit more about MarsHydro, what they sell—and why it could be worth your while to buy from the eBay store.
Oh, and we've got a nice surprise for you at the end…
*What do we mean by a Sponsored Post? A sponsored post just means that we've been paid to write about MarsHydro and its eBay store—but what we write has been left up to us.
We agreed because we've always written positively about the company and its products in the past, and we know they're already popular with our readers, so we weren't concerned about a conflict of interests. Plus, we felt it was well worth alerting you guys to the lower prices at their eBay store. Also: there's that surprise we just mentioned…
MarsHydro: A brief introduction
MarsHydro grow lights have earned a great reputation among growers for very competitive prices—but combined with component and build quality that exceeds most lights at similar price points.
For instance, rather than no-name LED diodes, Mars lights use zener protected Epistar and/or CREE LED chips. (Zener protection means that if one LED fails the rest continue to work.)
Moreover, MarsHydro lights are tested at least three times for quality control and all products are fully safety certified for US, Canadian and EU markets.
Founded in 2009, the company has been developing and perfecting its products for nine years now. And the Mars factory shop itself has a history on eBay going back over six years, with 99.9% positive feedback. They reply to enquiries within one business day.
While MarsHydro lights are manufactured in China, a network of warehouses and repair centers across the US/Canada/UK/Germany/Australia handles local shipping and servicing. For the vast majority of our readers that means fast, free or cheap local shipping; local repairs; and no extra customs fees.
Shipping within the USA is free. And packaging is discreet.
Mars also stocks its own grow tents and protective glasses for dealing with the ultra-brightness of LEDs.
What else we like about MarsHydro grow lights
Full spectrum, for use throughout your grow
Even coverage
Plenty of info given on the exact spectrum, footprint and PAR values of each light—too many manufacturers still don't give growers enough of this info
No unrealistic claims about what wattage of HID lights they can replace
Hanging kit, region-specific power cable and instruction manual included
Minimum of 1 year manufacturer warranty with free service or returns with first 90 days (after that, Mars sends parts for free, or you pay shipping to the repair center and Mars pays return shipping)—warranty length depends on product.
Advantages of buying from the MarsHydro eBay factory shop:
Did we mention already that the eBay factory shop is cheaper than buying from Amazon?
Besides that not insignificant point, it's also worth noting that the eBay store sells some models that aren't available on Amazon.
Another advantage: You can be sure that you're buying authentic goods directly from the company, rather than from a reseller raising the price or someone selling fakes (it happens). Just make sure the store name is "marshydro".
Selling on eBay also means the company can offer the occasional auction of new or used equipment. Your chance to perhaps pick up a great bargain.
Plus they offer some good deals on multi-product packages, which you won't find on Amazon.
That surprise we mentioned…
The final reason you need to know about MarsHydro's eBay factory store?
They've kindly given us a discount code to share with you, our readers.
Just sign up to our weekly newsletter before the end of June and we'll send you details of how to get 10% off your purchase. (See below for sign up form. Signing up also gives you access to our sister site's free ebook: Complete Beginners' Guide to Growing Weed Indoors.)
Existing subscribers, don't worry, you won't be left out. The details will be shared in the newsletter today and for the rest of the month.
Happy growing!
Not sure which MarsHydro light to buy? No worries, we've already reviewed a few over on 420Beginner.com and we'll be adding some more reviews over the next few months. (N.B. We said "next few weeks" in the newsletter—we meant "months"!)
We promise: NO SPAM. Just our weekly newsletter, bringing you our latest posts and the occasional relevant offer.