Lots of growers are discovering the power of LED grow lights. Their cannabis yields are healthy and larger than ever but their electric bill is lower. How can that be? Let's take a look at the best LED grow lights on the market to show you why.
LED lights versus HID lamps
LED (light emitting diode) bulbs use electricity very efficiently compared to HID (high intensity discharge) lamps. LEDs run cooler, don't need ballast, and don't wear out for 50,000 hours of use or longer. That means they cost less to run over time.
Full spectrum LED light panels are a superior choice for growing cannabis because they mimic real sunlight at a fraction of the cost of running HID lamps.
How much light do you need for your plants?
Here are two of the most important things to keep in mind when choosing the best LED grow light:
The size of the area you need to cover: a closet, a room, a basement?
The intensity you need: Are you sprouting seeds, taking care of plants in the vegetation stage, or trying to maximize flowering?
Lumens are for humans, or how to choose the right intensity and coverage
When you're choosing a grow light, ignore the specs on lumens. Lumen ratings are to measure brightness for human eyes. Pay more attention to specs like PAR and wattage as well as the manufacturer's guidelines on coverage.
PAR stands for photosynthetically active radiation. It's the light's intensity as well as what colors it emits. Broad-spectrum bright light will make your cannabis thrive. PAR measures light emitted in the 400nm to 700nm spectrum. That's from the blue end up through red and into infrared.
The higher the PAR number, the more useful the light is for growing. Some LED grow light manufacturers say their panels put out nearly 100% usable light. None of it is wasted by going to heat instead of light like metal halide or high pressure sodium lamps.
Most manufacturers say something like their light covers 2.5 feet by 3 feet at a height of 18 inches. When you're sprouting seeds, you don't need intense lighting. But when you're flowering, you will. Pay attention to those specs on area covered because you don't want to be 8 weeks into growing and realize your light isn't strong enough to encourage blooming.
A panel that might be bright enough when hung two feet above your soil for sprouting a lot of seeds might not cover enough area when lowered down to 12 to 18 inches height for flowering. Buy your panel based on how many plants you want to bloom unless you're only purchasing just for sprouting.
In summary, look at these specs:
Now let's review the best LED grow lights for the money.
Best LED Grow Lights on the Market
AdvancedLED lights Series XML 350 — Perfect for new growers with small-medium size tents
AdvancedLED makes the AdvancedLed XML Series of grow lights. They are one of the best companies selling panels because they have quality products at reasonable prices. They offer a lifetime limited warranty.
The XML350's coverage is 4.5 feet by 4.5 feet at an 18-inch height, or core bloom at 4 by 4 feet, perfect for semi-compact grow areas like a closet-sized grow tent with one to six plants. This light panel can take the place of a 600w to 800w HPS/MH light, while only using 330 watts of power.
More importantly, it has a 11+ spectrum that gives your marijuana plants maximum nutritional value all the way from UV and IR. There are two switches on the panel that control the intensity. Run it on "Veg" until you're ready for "Bloom." You won't need supplemental lamps to help you flower with the XML 350, or any of the AdvancedLED Series.
The light chips are all 3W LEDs, and they are replaceable, so if one fails you can replace it without losing your whole panel. AdvancedLED says they source their top bin LED bulbs from the best manufacturers like CREE and Bridgelux. LEDs sometimes vary in characteristics even though they are made in the same batch.  "Top bin" means that the LEDs are matched in color, voltage, and flux. So AdvancedLED only uses bulbs that pass strict quality controls.
The XML 350 performs extremely well in cloning, vegetative and flowering cycle for all indoor growing areas. It's using only top quality USA made CREE XML and Bridgelux Blue and White Led's and takes advantage of the precision 90 degree collimator lens for optimal coverage. Additionally, it removes the need in A/C in most grow spaces due to very low heat output and can use input voltage AC of 85-264V.
At only 18 pounds, the XML 350 is easy to hang in a grow tent or room. The panel itself measures 19.5 inches long by 19.5 inches wide by 3 inches thick. The LEDs should last up to 100,000 hours before burning out, and that's more than 20 years of 12-hour days!
Advanced Platinum Series P450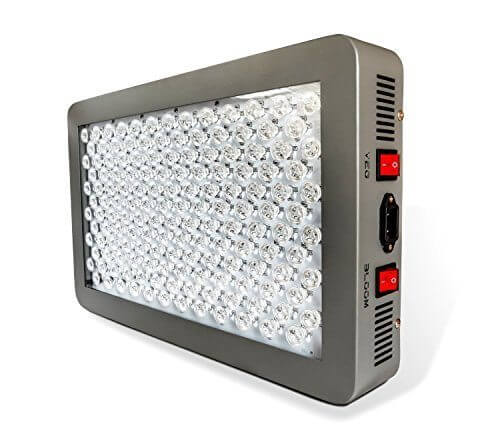 The Advanced Platinum Series P450 is slightly larger and heavier than the P300. It would be ideal if you need to cover a core bloom area of 3 feet by 2.5 feet. That gives you a little more space to work with up to four plants, depending on the strain.
Advanced Platinum Series P600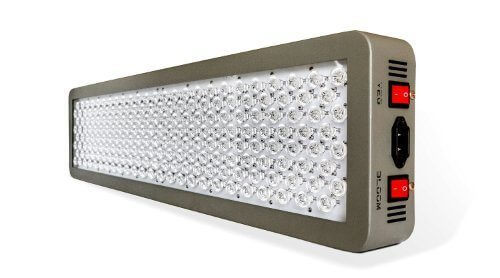 The P600 is made by PlatinumLED to flower plants in an area about 2 feet by 5 feet, so you can hit the "Bloom" switch for about 5 to 10 plants. The Veg coverage area at 18 inches is 6 feet by 3.75 feet.
Advanced Platinum Series P900, for serious growers raising up to 24 plants
The P900 is great for more advanced growers with a larger operation. It can replace a 1000-watt HPS light at full intensity and still only use 515 watts of electricity. Its core coverage for bloom at 18 inches above the plants reaches up to 3 by 5 feet. The veg coverage is 4 by 6 feet.
An adult cannabis takes up at least 1 square foot of space in a 3-gallon pot, so the P900 can flower between 12 to a maximum of 24 at a time. Before you start imagining the amount of buds you're going to harvest, better check with your local laws on how much is legal to grow.
Kind K5 XL1000 LED Grow Light w/ Rope Ratchets and Protective Eyeglasses
Here's another large and powerful lamp for growers with a lot of area to cover. Its advanced features are best for experienced growers.
The Kind K5 XL1000 panel replaces either a 1000-watt or 750-watt HPS (high pressure sodium) setup, but it only consumes 650W of electricity. It's powerful enough to cover a 5 by 5-foot area for the veg stage, or 4 by 4-foot area for flowering. That's good enough for 12 to 16 plants.
The Kind K5 offers precision control over both the full 12-band spectrum and the light cycles. It comes with a remote control allows you to digitally tune the color of the light for any plant growth stage.  For example, you can add more red during the flowering stage for bigger blooms. This is a lot more advanced than the simple Veg/Bloom switch on some other LED grow lights.
The K5 XL1000 panel also has an integrated timer that allows for eight separate stages of light intensity instead of just a simple on and off.  You can program it to imitate a gentle increase of light in the morning, and then a slow decrease of light in the evening just like natural sunshine.
The K5 panel is 3 inches tall and measures 26 inches long by 20 inches wide. It weighs a hefty 36 pounds and includes 320 individual LED bulbs. It has both 3W and 5W LEDs with high intensity light that penetrates all the way through the canopy.
In the box you'll find a pair of Method Seven sunglasses. Use them to protect your eyes from damage while you check on your plants. They put the world back in true color and dim down the brightness to acceptable levels.
And now, time for an important message about safety
Protective eyewear, why wear it? Have you ever looked into the sun for a few seconds and then looked away and saw spots? Ever heard those stories about someone going blind because they looked too long at the sun?
Burned retinas. Cataracts. Blindness.
Please protect your eyes while you use a full spectrum LED grow light. The infrared and UV rays can fry your eyes. It may not happen right away; it may take a few weeks or months or even years to happen. Don't slow cook your eyes, wear glasses or goggles to protect yourself.
That said, here are some top choices in protective eyewear for using with grow lights.
Method Seven Operator LED Grow Room Glasses
Method Seven makes top of the line grow room glasses. They classify them by light type. These are for protection from LED lights. They also have ones for Metal Halide and HPS lamps.
The Method Seven polycarbonate lenses are made by the well-respected Carl Zeiss company. They help your eyes see true color while you test your plants but keep you safe from UV and IR rays.
Apollo Horticulture AHFR-Cultivator-1 Indoor Hydroponics Grow Room Light Glasses

These eyeglasses from Apollo Horticulture come with a smaller price tag than the Method Seven brand but are still rated to protect you from UV rays and glare under LED and MH, and HPs lights.
Best LED Grow Lights for the Money
Now back to our regular programming…more top quality grow lights for marijuana.
G8LED 240 Watt LED Grow Light with Optimal 8-Band plus Infrared and Ultraviolet for up to three plants
The G8LED 240-watt grow light is the smallest member of the award-winning G8LED family. Its 8-band spectrum works well up to the flowering stage. Then the manufacturer suggests supplementing the panel with a 90-watt Red Flower Booster.
This light covers an area measuring 2 by 3 feet. The wavelengths it emits cover the whole range of visible light plus infrared and ultraviolet. If it appears that some of the LEDs aren't working, it could be because these last two types don't put out light you can see with your eyes.
But if this isn't large enough for you, try the one below.
G8LED 450 Watt LED Grow Light
The G8LED 45-watt light covers all 8 bands of the visible light spectrum plus infrared, making it able to cover up to 12 square feet. But again, G8LED suggests adding a 90-watt Red Flower Booster for the bloom stage.
Although we prefer all-in one solutions like the Advanced Platinum Series by PlatinumLED, we respect the opinion of experienced growers. And the G8LED panels were given the award of "Best LED Grow Lights" by High Times magazine.
G8LED has been in business for almost a decade. They offer a 2-year warranty on their lights and have friendly customer service to help you with questions.
G8LED 600 Watt MEGA LED Grow Light—named "2016 Best LED Grow Light" by HIGH TIMES Magazine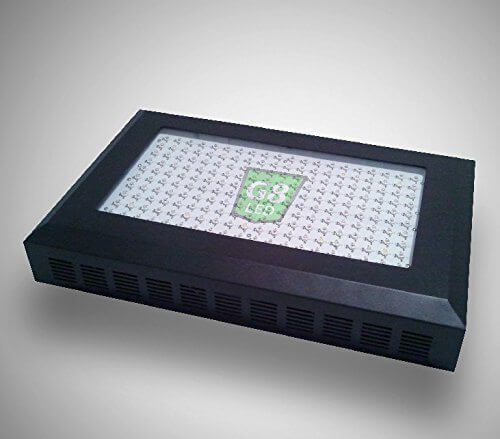 The G8LED 600-watt grow light covers a maximum area of 18 square feet for the veg stage. Put it in a 4 by 4 foot grow tent to raise up to 16 plants. Don't forget your sunglasses because this baby puts out UV and IR rays.
VIPARSPECTRA Reflector-Series 300W—Top pick for new growers on a budget
The VIPARSPECTRA 300 W would be great in a 2' by 2' or 3' by 3' grow tent. The core coverage area for bloom is 2 by 2 feet when the panel is hung 2 feet above the foliage. Although it's rated for putting out 300W of light, this panel actually consumes only 136-watts and can replace a 250-watt HPS lamp. You won't need any supplemental lights for this panel if you follow the recommendations for how much ground it can cover.
It's one of the lightest weight panels we've reviewed up to this point, coming in at just 5.6 pounds. It comes with its own hanging kit and a 6-foot long power cord. If you want to daisy chain this light or use it with a timer, you can.
People using the VIPARSPECTRA have commented that it's very, very bright. This is probably due to the sixty 5-watt Bridgelux and Epileds chips it uses. They are all mounted so their light shines 90-degress straight down on your plants. Their powerful rays penetrate through thick canopy.
Other positive comments about this light include the fact that it's very quiet although it has internal fans to keep its circuitry cool. Plus, it has a good mix of blue and red LEDs to encourage maximum growth.
VIPARSPECTRA offers a 30-day money-back satisfaction guarantee as well as a 3-year warranty.
If you have more plants to raise, try the big brother VIPARSPECTRA 600W for up to 9 3-gallon pots at a time.
Or invest in the VIPARSPECTRA 1200W for up to 16 mature cannabis plants at a time.
GoGrow V3 Master Grower LED Grow Light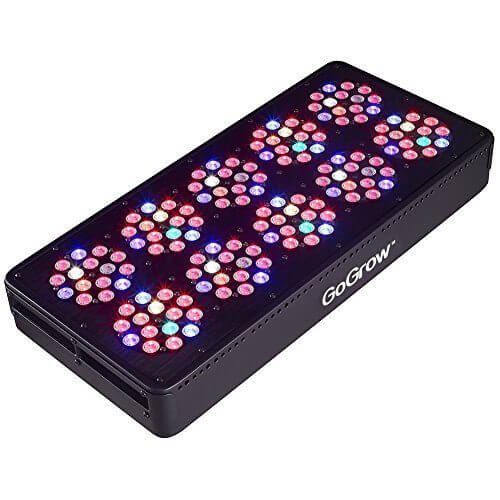 GoGrow sells their V3 as a replacement for a 1000W HPS light. It has a sleek and attractive design with a full spectrum of colored LEDs mounted in circles. Meant to be hung between 8 and 40 inches from the tops of your cannabis, it covers a 4 by 4 foot area for blooming and 6 by 6 feet for seedlings.
The PAR of this lamp is outstanding. Even at 6 feet above the canopy, they measured it to be 613 umols (micro-mols). At bloom time, when it's suspended two feet off the tops of your plants, it should be putting out 1113umol.
GoGrow says they cover your investment with a 30-day money-back guarantee and a 3-year no-hassle warranty.
Galaxy Hydro 300W Dimmable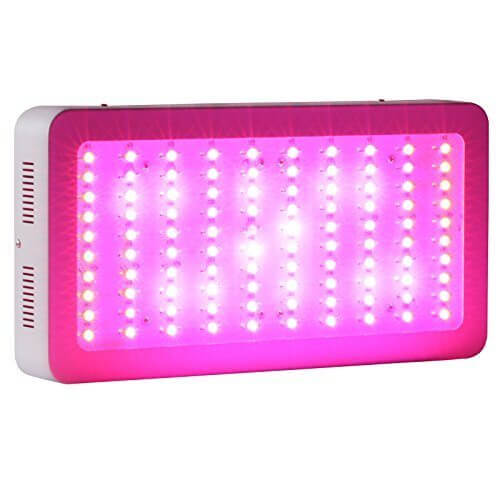 The Galaxy Hydro 300 Watt panel is one of the least expensive grow lights we reviewed. It's a 9-band spectrum light with a seven to one ratio of red to blue LEDs plus UV and IR. The new version here is dimmable from 0-100% so you can help your plants feel like they are really outdoors.
While it only covers 2' by 3' at most (for sprouting, not flowering), it's made to be daisy-chained. You can buy two or three of these for the same price of a larger light and link them together like Christmas lights to cover a larger space. GalaxyHydro offers a 2-year warranty with a 30-day money-back guarantee.
MEIZHI 300W Led Grow Light Full Spectrum
A new competitor on the market is MEIZHI. Their 300W grow light covers one or two plants at most at 1.5 by 1.5 feet at 18 inches.  But since it's powered by Epistar's 5W LEDs, it's quite bright. In fact, the PAR value is 300 micro-mols/second.
One feature we liked about this light is that the company gives full specs on how well it works, from PAR ratings to power draw. While it provides full-spectrum light, it gives more weight to the red and blue wavelengths as well as white. As they explain, the blue wavelengths are good for leaf growth and photosynthesis. The red rays are needed for flowering and budding. The white light makes plants stronger.
They offer a 3-day money-back return policy along with free repair for three months and parts for up to a year.
Apollo Horticulture 300W LED Grow Light
Apollo Horticulture's 300-watt light is small, about the size of a sheet of legal paper and 3 inches thick. It contains 60 5-watt LEDs that cover the full spectrum of light from infrared to white without UV.
The LEDs are focused downward but have a wide view angle of 120-degrees. That simply means that this little light can cover a wider area of up to 9 square feet for the vegetation stage and up to 6 square feet for bloom when you hang it about two feet up from the tops of the plants.
Apollo Horticulture covers their light with a 2-year warranty. If you notice that some LEDs don't appear to be working, those might be the IR bulbs.
Global Star Horticulture Full Spectrum LED Grow Light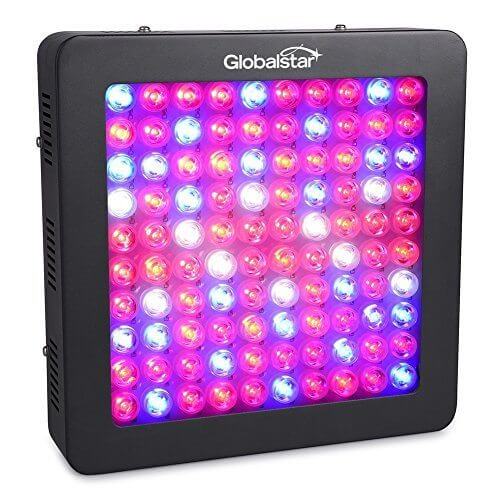 The LEDs on the Global Star grow light are huge. They are 6-watts each and there are 100 of them, so this an intensely bright light that works especially well for dense plants. The panel covers up to 10 to 15 square feet from a 2-foot height when the plants are in bloom.
The customization options include two switches: one for veg, and one for flowering plants. The spectrum covers 11 bands including white light, UV, and IR. The Veg setting focuses on red, blue, and white light. The Bloom switch adds orange and yellow into the mix.
The LED bulbs have a backup system to keep running even if one of their chips fails. Global Star offers a 1-year warranty that includes parts and service.
Chip lights that are really bright
Have you ever heard of COB LEDs? This is a light made up of multiple chips packaged together. The COB LED "bulb" looks small but it can put out a lot more light than regular LEDs taking up the same amount of space.
COB LEDs are probably the wave of the future. They rarely fail because they have fewer soldered joints and they run even cooler than normal LED panels. Their viewing angle is wider than many traditional LEDs (which are 90-degrees) and they don't need lenses to create this effect.
Bestva X5 1000W COB LED Grow Light Module
You may have heard of some brands that are using COB LEDs now, like Bridgelux's Vero and Cree's CXA. Bestva is enthusiastically competing with the better-known brands with a lower cost to the consumer.
The 1000W covers a square-shaped area of about 3.8 by 3.6 feet, good for 16 to 20 plants, depending on size and strain. Bestva says they measured PAR at 20-inches height from the top of the plant at 2170. Even at the greatest recommended height of 6.56 feet about the plants, it has a PAR of 670. That's bright full-spectrum light!
Roleadro 400W COB Full Spectrum LED Grow Light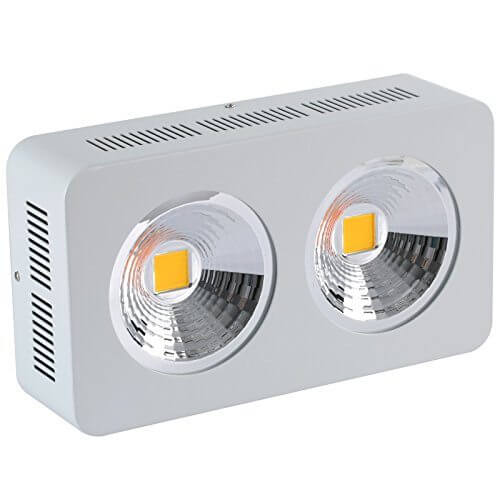 The Roleadro COB LED grow light is tiny but mighty. Its patented reflector design focuses UV, blue, red, and IR light onto your plants for maximum growth with minimum power use. While it's rated for 400W, it consumes only half that in electricity. It also runs very cool. Those two things will help you keep your pot farm on the down low.
CrxSunny 1200W COB LED Grow Light
COB lights are super efficient, so this 1200W monster only consumes about 270 watts of electricity in reality. It's full spectrum with an emphasis on violet, green, blue, and red. Because this light is so bright and strong, CrxSunny recommends hanging it about 3 feet above your plants. It covers about 2.5 by 2.5 feet for blooming. The CrxSunny comes with a 3-year warranty.
Little lights for little grow spaces
TaoTronics Hydroponic LED Grow Light
Let's say you are trying an experiment. You want to grow just one cannabis plant to see how it goes. Instead of investing a couple hundred dollars or more on a nice LED panel, why not try this small grow light from TaoTronics? It's got red, it's got blue, it will help your little plant grow to harvest time all by itself. Screw it into a light socket or a desk lamp, just keep it within 18-inches from the top of your plant.
ABI 12W PAR38 Flowering lamp to help get bigger yields at blooming time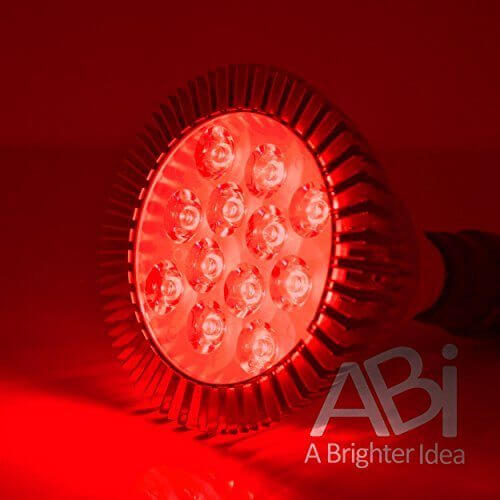 Let's say you want a larger crop but you're already stretching the light from your LED panel to the limit. Many growers supplement with an extra red light or two. This is the extra lamp we mentioned earlier for some of the LED lights that need it, like the G8LED panels.
This 12-watt red light bulb from ABI is an inexpensive way to get more buds and flowers on your weed. It fits in a standard household lamp socket or you can plug it into an extension cord made for light bulbs. Don't worry, it's not hot like an incandescent red lamp, it runs very cool.
Other goodies for growing
Besides a powerful and reliable LED light, you need other accessories for growing your weed. Here are some of our recommendations to make raising cannabis easier.
AcuRite 00613 Indoor Humidity Monitor
Although you'll be running cool with an LED light, it's still a good idea to keep an eye on the temperature and humidity in your grow tent. This one has a large, easy to read display and runs off one AAA battery.
Apollo Horticulture 48"x48"x80" Mylar Hydroponic Grow Tent for Indoor Plant Growing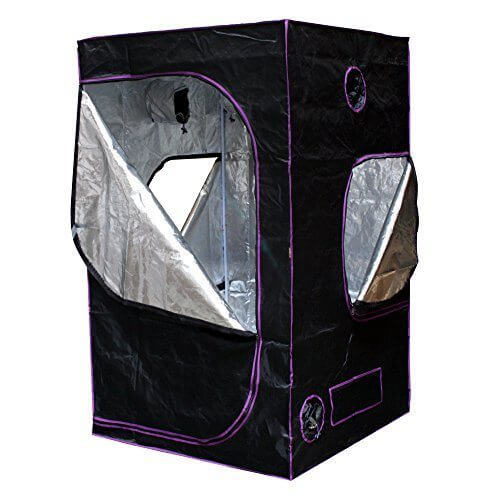 Why bother with a grow tent if you've already got an empty closet? Well, a grow tent serves multiple purposes.
Grow tents keep plants isolated from light when it's time for them to rest (at night)
Tents keep grow lights from affecting your sleep, too
They keep conditions like temperatures and humidity inside the tent better controlled
They also limit odors as well as protect your plants from pests
This tent from Apollo Horticulture is good for a beginning grower. It comes with a 30-day money-back guarantee.
Fox Farm FX14049 Liquid Nutrient Trio Soil Formula: Big Bloom, Grow Big, Tiger Bloom
The right nutrients will encourage your weed to grow big and strong with good tasting buds. Fox Farm has a proven track record with their Liquid Nutrient Trio Soil Formula. These work on fruit, too, just in case you're curious.
247Garden 5-Pack 3 Gallon Grow Bags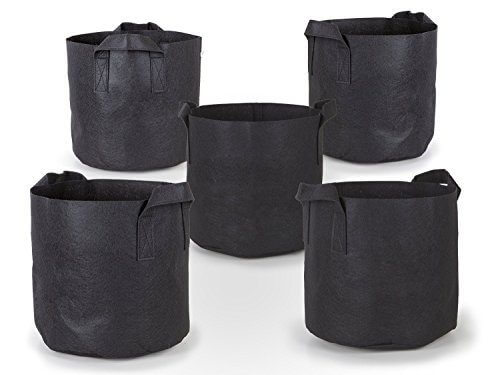 If you don't plan to move your plants around a lot, these 3-gallon grow bags are an economical way to raise cannabis. Although three gallons sounds like a lot, they measure just 9 inches high and 10 inches across.
They're permeable, so water passes through. Consider resting them on a waterproof base.
Viagrow 3 Gal. Nursery Pots (10-Pack)
Another way to grow weed is in these plastic pots. They stack together when you're in between growing sessions.
Dr.Meter Moisture Sensor Hydrometer for Indoor/Outdoor Use
If you're not sure when it's time to water, this hygrometer will help you know.
General Hydroponics Rapid Rooter Replacement Plugs 50 count
Ready to sprout some seeds? Here are some starter plugs that are packed with nutrients to explode root growth. Just pop the whole thing into the soil in your pots once they start showing leaves.
American Educational Student Germination/Greenhouse Kit
We couldn't resist this educational kit! It comes with tray and peat pellets plus instructions.
What do you actually need to start growing weed?
Although we have a beginner's guide, here is a quick overview. When you decide to grow weed for the first time, consider your goals and your budget. If you're just experimenting, you may not want to invest in a big LED light, a grow tent, and so forth. On the other hand, if you're planning on making a living from growing or at least raising your own crops regularly, it's worth it to spend more right at the start.
Bare bones setup:
Grow tent, or other prepared space
Seeds
Peat pellets or similar for germination
Lights and timer (plus protective glasses)
Pots or buckets with drain holes
Soil and fertilizer (don't put anything on your pot that you wouldn't put on food)
Water
Measuring instruments for temperature and humidity (recommended but optional)
Odor control (optional)
Shears or clippers for harvest time
Buy seeds from a reputable place. There are some growers in the Netherlands that offer a large variety of strains to choose from. Check to be sure they look tiger-striped and aren't black. If you're buying clones, be sure they've been sexed first.
If you're raising from seeds, take some time to learn about sexing plants. With cannabis it's important to be able to tell males from females because females are the ones that produce the right kind of buds for smoking and so forth.
As for a grow tent, it's really nice to have. We mentioned some reasons why above. At the minimum, keep your un-tented grow space protected from weather, from pests, and from temperature swings. Paint the walls bright white if you can so they reflect as much light as possible back onto the plants.
If you keep costs as low as possible, you can probably purchase seeds and all the accessories you need (or repurpose ones you have at home) to raise up to 4 plants for $100 to $200 dollars. But in reality, if you plan to keep growing, invest at least twice that much to start in order to get the best stuff you can to begin.
You won't be nearly as frustrated if you have a reliable light, a sturdy grow tent, and a way to measure conditions like temperature, humidity, and soil moisture.
Check out this time lapse video of cannabis growing to get a feel for how it looks to grow weed.
Why choose LED lights to grow cannabis?
In summary, LED lights run cooler and use less electricity to get better results (in many cases) than high pressure sodium and metal halide lamps. You don't need extra fans or ballasts. The LEDs themselves last for years before they need replacing even if you run them for 24 hours a day.
Recommendation for choosing the best grow light
When you're shopping for a grow light, whether it's for your first time raising marijuana or an upgrade to a light you already have, you need to decide just two things.
How much light do you need? As in how many plants are you planning to grow? And are you raising them from seedling to harvest under the same lamp?
What's your budget? If you're upgrading from an HID setup, the cost of an LED grow light might seem high until you figure in that you'll save money on electricity and cooling and maintenance.
If you're experimenting with only one plant, even a small 100W grow lamp will probably work for you. You can always add a supplemental red lamp with IR for bloom time.
If you have a grow tent big enough for two plants to four plants, you'll need at least 200W. From four plants up to six, take a look at the 300W to 450W range. Anything more than 6 plants and two things happen: one, make sure your local laws allow you to raise this much, and two, consider getting two panels and daisy-chaining them. This is simply connecting them to each other with their power cords so you can control them with the same timer. Some brands will let you do this while others will advise you against it.
A final thing to consider is the strain of cannabis you're growing. Some strains grow larger than others and will need more space. They may have leafier canopies and so they will need a more powerful light to penetrate their foliage.
Signs that your weed is not healthy
Fortunately, LED lights are very unlikely to burn the leaves of your cannabis. The heat from high pressure sodium and metal halide lamps is a danger to plants if you place the light too close to them. But LED panels are cool, and you can touch the bulbs themselves with your bare hand and not even burn yourself.
If you're worried about burning your plants, watch the leaves. If you see yellow or brown spots and the serrated edges curl upward, your plants may be getting too much heat from their lamp.
There are other signs to watch out for as you grow weed. For example, overwatering is a common problem for new growers. It helps to have a hygrometer to tell you if the soil is dry enough. If you've given your plants too much water, you'll see their leaves drooping and curling down toward their stems. If this continues to be a problem, make sure you have good drainage for their pots and try poking some holes (gently) into their soil to aerate them.
If you're using pre-made nutrients to fertilize your weed, watch out that you don't overfeed them. If they get too much, they will develop random spots and their edges may curl downward. If this happens, try watering them with pure water (not tap water) and cut back on nutrients for a while.
Beginning growers may not want to worry about testing their water and soil for pH levels, but having the right amount of alkalinity will help your weed flourish. The ideal is to hit between 6.0 and 7.0. One trick to help you achieve that is to avoid watering with tap water, or else fill a container with tap water and leave it out overnight to help de-chlorinate it. To check your work, use a pH tester kit like this one from General Hydroponics.
Sexing your plants
Sorry guys, male plants are less desirable than females. If you buy seeds from a reputable dealer, they should be for female plants already. But keep an eye out in case someone screwed up. Once your plants have been flowering for about a week to ten days, their gender will become obvious.
The easy way to tell the boys from the girls is this: boys grow, ahem, bananas, and girls grow hairs. Male plants look, well, male. Female plants have white hairs that sprout. Separate out the males before their bananas, or pollen sacs, erupt and pollinate your females. That way the psychoactive elements of your female plants stay pure and powerful.
Recycle and re-veg
If you've grown attached to your plants, you can avoid tossing them out after harvest time. Just leave about a tenth of the plant's stem, branches, leaves, and buds intact. Don't trim everything down to the nub. Pull it out of the soil and trim off brown roots, then transplant the plant into a fresh pot of soil with fertilizer. Go back to watering and leave the lights on for up to 20 hours a day. Within a couple of weeks you should see new growth happening.
Conclusion
Happy growing! Check back soon for more reviews of the best products for raising a bumper crop of weed!